Blue Star Chf200 Deep Freezer at a pocket-friendly price if you are planning to buy one. It is economical and beneficial for proper storage of frozen and perishable foods. Bid adieu to molten ice-creams and warm drinks, thanks to this freezer. This appliance is equipped with innovative technologies like power cool that ensures faster freezing and cooling of products. It is also highly energy-efficient that helps you to cut down on the expenses of the monthly electricity bill. It is built to last long and meet your requirements. The 1-year warranty that it comes with makes it even more desirable.
Capacity
This single-door deep freezer from Blue Star has a capacity of 200 litres. This allows you to store a substantial quantity of food items in it to help them stay fresh for a long time.
Star Rating
This freezer comes with a 5-star rating, which makes it even more desirable. Star rating helps the consumer to understand and compare the energy efficiency of different models available in the market in a better manner.
Design
The innovative design of the Blue Star Chf200 Deep Freezer guarantees long-lasting freshness of the food items stored in it. This freezer has a special corrosion-resistant body and an energy-efficient compressor. It is appropriately sized and, therefore, does not take up much floor space. Its white and blue colour combination makes it look even more appealing. It comes with only one lid.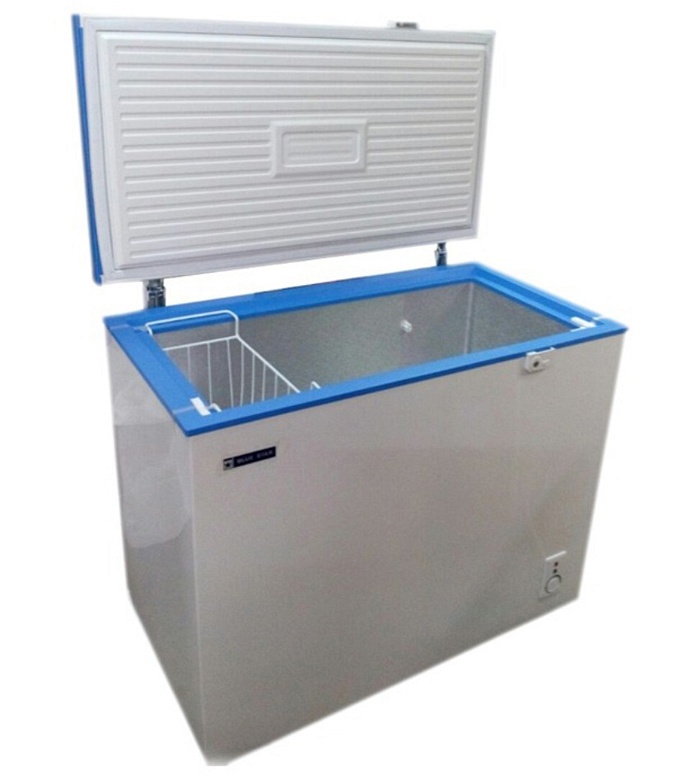 Cooling Features
The tank material used in this freezer for the cooling process is anodized stucco aluminium. It also has a high-density PUF insulation for better a holding time. Its PUF thickness is 60 mm.
Power Usage
It requires a power supply of 230 V at a frequency of 50 Hz. Therefore, it saves on energy as well.
Additional Features
The Blue Star Chf200 Deep Freezer comes with a number of beneficial features like heavy-duty wheels that ensures easy mobility. It has a robust construction for heavy-duty use.