Resolution
With vivid colors, excellent contrast, and life-like details, the 102 cm display of this Micromax LED TV makes your viewing experience picture perfect.
Android OS
This smart TV supports Android operating system, so you can easily use it with your android phone.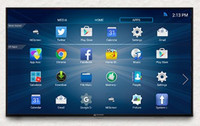 Miracast Technology
You can easily cast your phone's screen to this TV to check emails, social networking sites and apps. And when the need arises, you can also capture your TV screen on your smartphone, so that nothing can come between you and your entertainment. This TV also lets you consolidate all your media files in one location for easy access.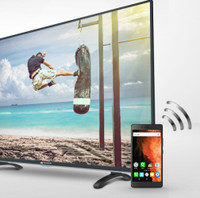 Wireless Smartphone Control
Nothing is more irritating than having to get up from your couch or bed to pick up the TV remote. Thanks to the Wireless Smartphone Control feature of this smart television, you don't have to go through that again. This LED TV allows you to adjust the volume, change channels and browse through your media files from your phone itself. Also, you phone turns into a handy track pad so that you can easily navigate on your TV screen and use your finger as a virtual mouse.
Digital Surround Sound
Equipped with Digital Surround Sound technology, this TV lets you enjoy crystal clear audio quality while watching your favourite movies and shows.
Game Control
If you are tired of playing android video games on your mobile's small screen and want to enjoy a more immersive experience, then connect your phone to the TV. You can use your phone as a hand-held video game controller while you play video games on your TV's big screen.
Connectivity
Apart from Wi-Fi connectivity, this TV also supports HDMI. It is also equipped with USB ports.